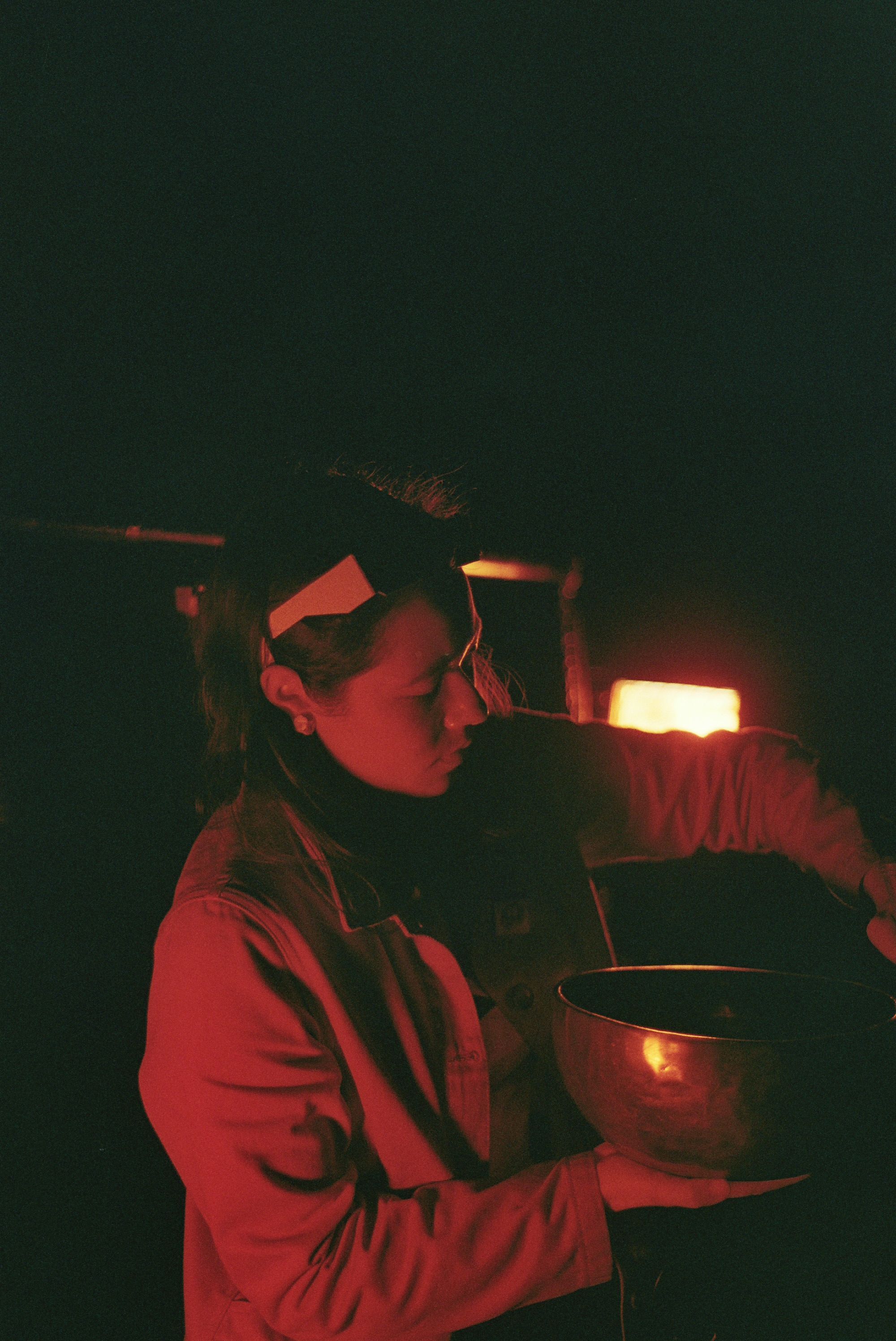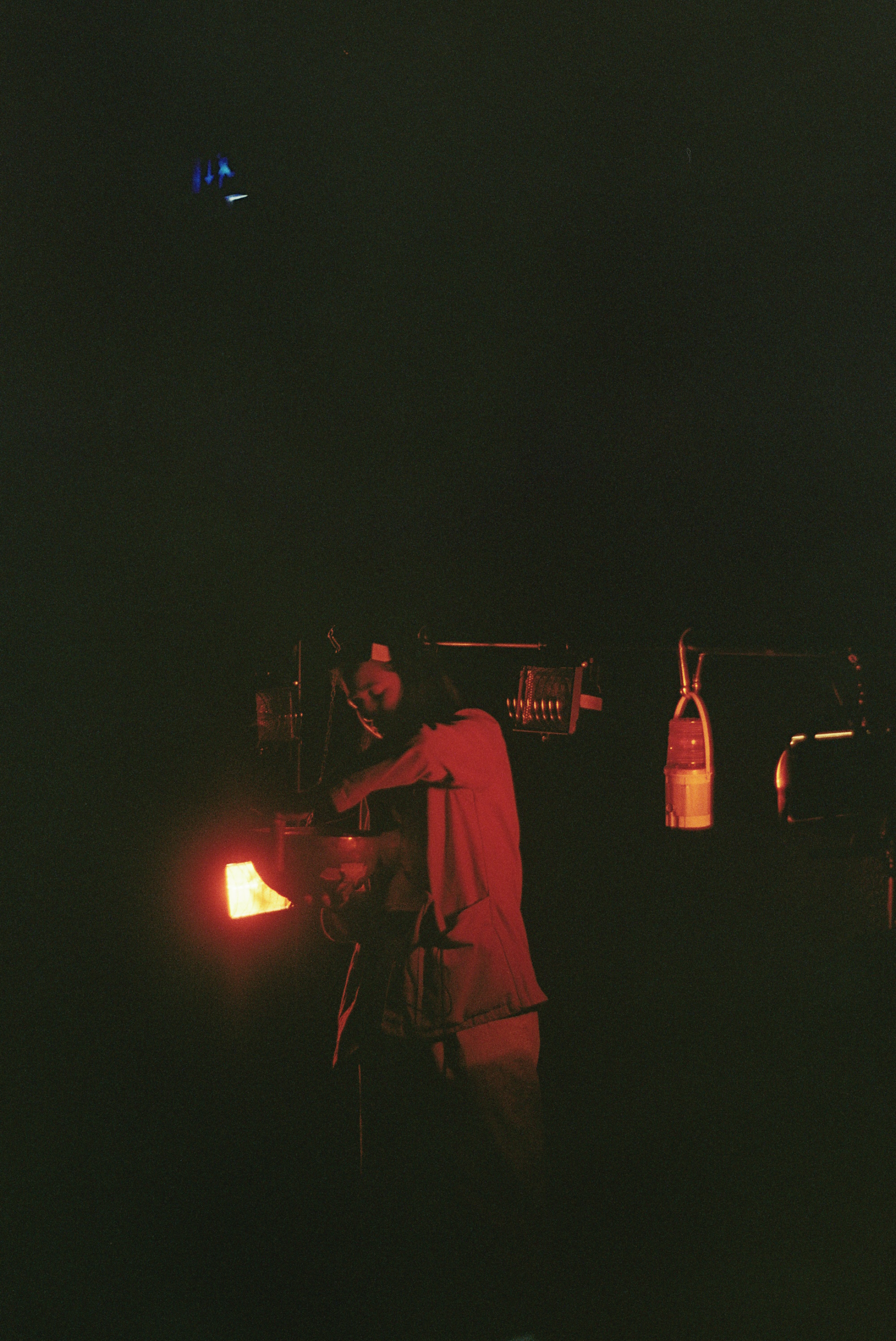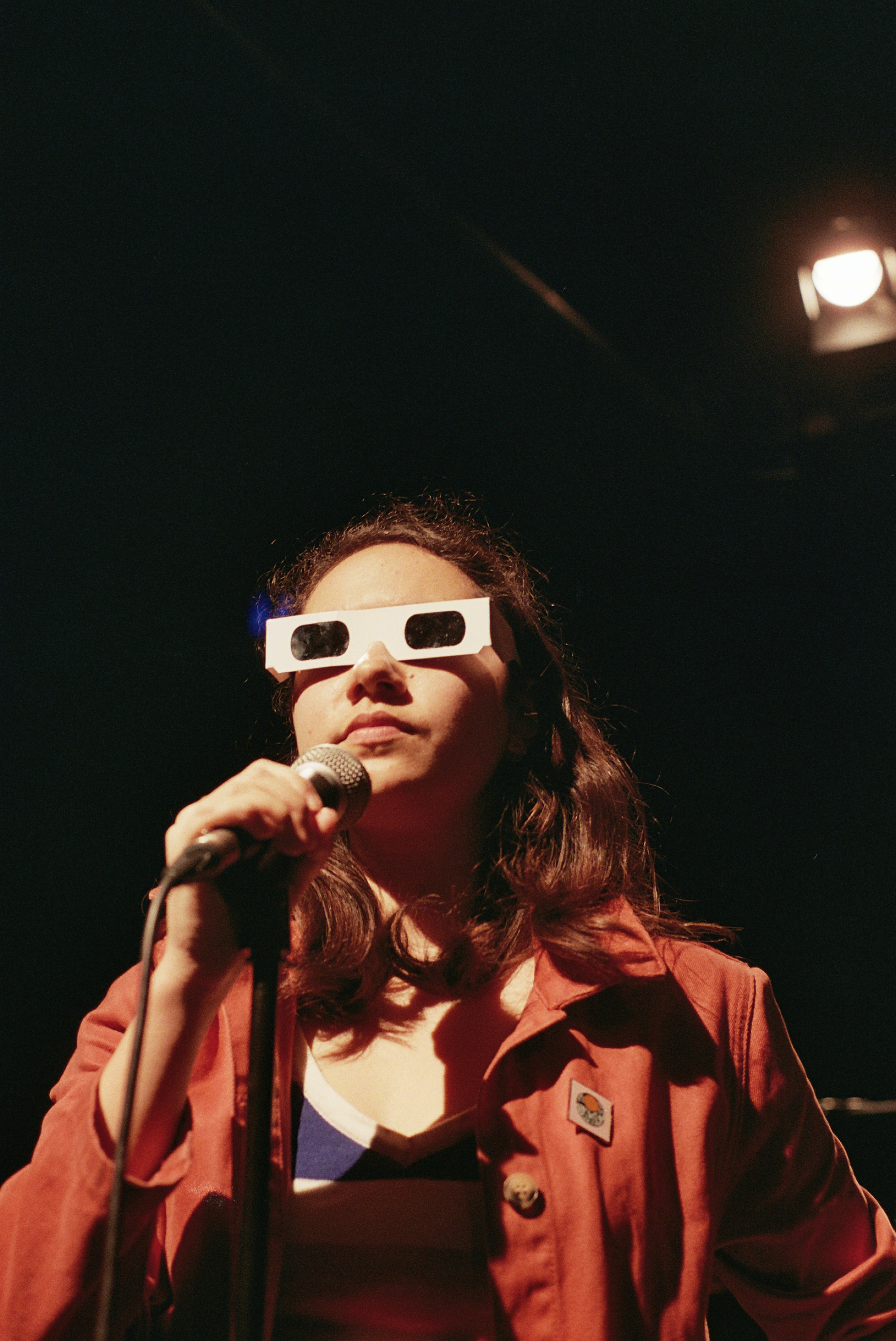 TOTALITY | creator

A woman perches on a desk in a classroom.
A woman in a hot pink dress with billowing pillowing sleeves.
…Full moon. Half moon. Total eclipse.
We can chart astronomic events into the next millennia with minute precision, so why are we still awestruck by the simple motion of the sun disappearing behind a moon?
Drawing inspiration from home videos, personal testimonies and that jaffa cake advert, Totality explores the inexplicable experience of watching a total solar eclipse.

14-7th April 2019 | Hearsay International Audio Arts Festival, Ireland
14th March 2019 | Camden People's Theatre
Initially performed as part of Live Drafts Festival 2018

Developed at and Supported by The Yard Theatre, Camden People's Theatre and Hearsay Festival
Performers:
Mae-Li Evans
Calum Perrin

With Special Thanks To:
Elisha Hindley-Cupper
James Jordan Johnson
Jon Lloyd Berry
Cara Evans

Eclipse glasses by American Paper Optics, supplied by David Burder of 3-D Images Ltd
The Human Archive | Co-Creator
RR2 Cantocks close | part of Gradfest 2016
How did you decide what to wear today?
What was the last thing you saw that left you speechless?
Purple or carrots?
A collaboratively devised piece for two audience members at a time.
If you've ever wondered whether someone out there thinks just like you, or wished there was a way of cataloguing what makes you unique, meet our team of Human Archivists. With individual expertise in Personality Recording, our team will gather anything from mundane routine to wildest fantasy. In a world where data is the most valuable commodity, no detail is too banal. The Human Archive: made by humans, for humans.

Co-created with Billie Turner and Kath Coles
Images by Jordan Wheelman-Clarke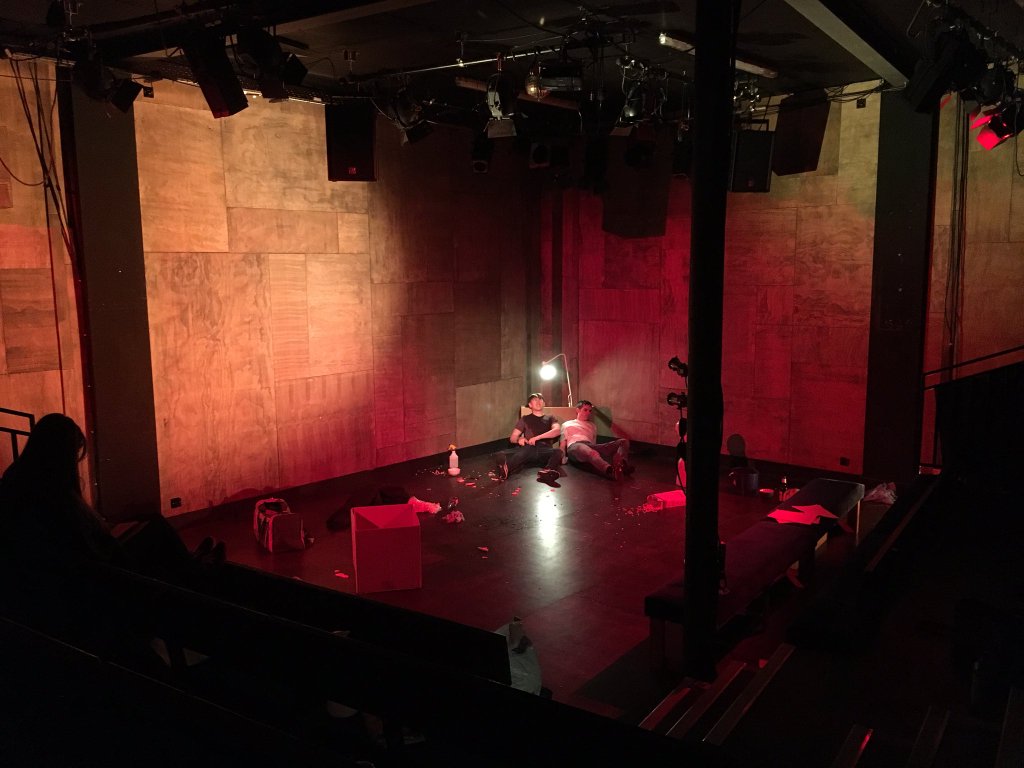 Rocks That Bleed | Writer (adapted) and director
Wardrobe Theatre, Bristol | Feb 2016

Closing the Bristol Playwrights Collective Festival 2016
An independent theatrical adaptation of the short film by Bertie Gilbert and Sammy Paul.

★★★★
"Director Mae-Li Evans manag[es] to recreate the dystopian reality of the film. The tension between the two actors is tangible...Tight and powerful devised physical sequences, [link] scenes together skillfully and provid[e] a further layer to the already deeply charged story. Rocks that Bleed testifies the transformative power of the theatre and the limits to which creativity can be pushed. Intensity and emotion bleed out of every word, movement and breath from the two brothers…
Colours, sounds and textures of the everyday collide with the power of an otherworldly bond, which is beautifully captured on stage. Beads of sweat trickle through every pore and deep reds fill the space, as the exhausted performers and hypnotized audience watch the sun come in with a sense of helplessness and a broken heart."- Ella Kemp | Epigram
Sweetening | Video design, co-set designer
Dir. Lucy Mann and Hattie De Santis
Wickham Theatre | Dec 2015
'Inspired by the New York based avant-garde theatre company The Wooster Group, this original piece of multi-media performance explores contemporary culture's fascination with and fetishisation of youth. Through a radical mash-up of Nabokov's Lolita and Golding's Lord of the Flies, integrating canned laughter with 1960s beach-party movies, Sweetening investigates society's problematic and often hysterical representation of young people's sexuality.
★★★★ 'an artistic laboratory in which they use Popeye footage, dance and dazzling lights to deconstruct beauty, sexuality and the taboos associated with the two… Spectators are taken on a multifaceted journey – exploring nymphet sexuality by setting it against wild life documentaries…projections are scattered across the set, while the actors film each other, producing often uncomfortably extreme close ups to be shown on mobile TV screens. Thanks to the impressive synergy of those screens, the movable glaring lights and the actors' bodies, Sweetening is as visually stunning as it is overcharged.'
-Mathis van der Berg, Intermission
Luke Warm | Writer and performer
A commission by Fusebox Collective, Oct 2015
Luke Warm is an interactive storytelling performance for a single audience member at a time...

A recollection, a reminiscence, a reimagining of one fateful encounter with someone from the past. It's about the bittersweet smiles, and the acknowledgment of an ever growing abyss.

Created for Diving Into The Wreckage at the Old Police Station, New Cross - an evening dedicated to exploring the wreckage in our lives and our world, with specially commissioned work ranging from performance to sound art to film.
Submarine | Set Design
Adaptated and dir. Lucy Mann and Olivia Marcus from Richard Ayeoade's film and Joe Thornton's novel
The Alma Tavern Theatre | Jan 2015
Wardrobe Theatre | July 2015
The Space on Niddry Street | August 2015
★★★★★ 'the contraption made of wooden pallets anchored at the back of the stage requires a review of its own! A boxed, turnable, rollable, foldable bed, table, closet and storage space that seamlessly flows into the scenes. Lydia Nowak, BroadwayBaby

★★★★★ Homage must also be given to the set designer, Mae-Li Evans, who created the inventive central stage piece; a wooden contraption that acts as a bed, coat hanger, bench, cabinet and prop holder. This contraption also manages to look great, while enabling effortless fluidity between scenes' Ella Wilks-Harper, Worth it or not

★★★★★ A cleverly designed revolving wooden contraption which became everything from Oliver's bed to his "favourite industrial estate" Hannah McLeod, Intermission

★★★★ An impressive set design by Mae-Li Evans which consists of very few props and contorting wooden pallets that change the scene and act as a bed, door and coat hanger.' Rachael Hickman, TV Bomb

★★★★ The set is simple yet highly flexible, and scene changes are never protracted and the pace keeps the story alive' Alexander Wood, The Metropolist

★★★★ Popcorn Theatre's "Submarine" is an undeniably enjoyable piece of theatre, whether you've even seen the original work or not – or even if you're not a fan of indie movies.' Jacob Close, Edinburgh 49

★★★★★ 'This production is sweet, playful and thoroughly entertaining…the use of performance space is creative and inventive. A central wooden structure created by set designer Mae Li-Evans folds, collapses and spins into a number of shapes, transforming the space from Oliver's bedroom to a classroom and to an industrial estate.' Joy Molan, Epigram
★★★★ - Three Weeks Edinburgh
Part of The Metropolist's Edinburgh Essential Round Up
American Psycho | Director
White Theatre | Dec 2014
A ten minute extract from the Duncan Sheik American Psycho (musical) for an all female cast. Performed as part of D.A.T (Directors, Actors, Technicians) showcase.